Check Here For Hours!
Jonny Barber Shop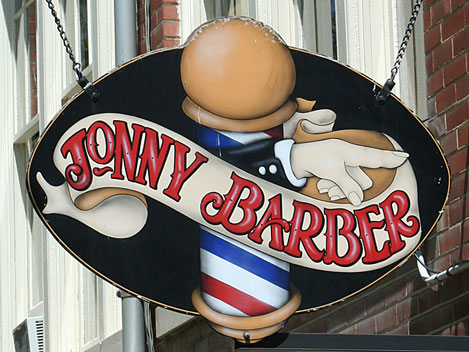 Established in 2006. Gentlemen's Preferred Grooming
The first Barber Shop in Ellicottville since the early 1980's! Located at the new complex with EVL Bowling. The shop is in the section facing East. Only the best in professional barbering, specializing in traditional and also fresh, new men's and boy's hair styling. Finish-up neck shaving with straight edge razors and hot lather available. All sorts of nostalgic barber aftershaves available if you have the guts. Plus, I have a really awesome line of Styling Pomade and Beard Oil From "LAYRITE" that I use post-haircut Or to purchase ($20) at the shop. Walk-Ins Always Welcome. No Appointments Necessary at this time. Comfortable Waiting Area with Free Wi-Fi. Credit Cards accepted through "Square" card reader.
Regular Hours
The shop is open:
Jonny: Tuesday thru Friday 9:00am to 5:00pm
<>During School Year- Wednesdays are 10:00am to 6:00pm<<
Saturday 9:00am to NOON
Closed on Sunday & Monday
Please call me if you should need a Monday Appointment. We can work something out!!
****Shop Policy****You may call ahead to ask that I stay a bit later than closing times, for example, if you are coming from work.
Come on in and Get sharpened up! (716) 572-3321 Jonathan Barlow Owner/operator.
News Update…Heading into year 8 in the new spot! I included a nice new little vac system for the loose hairs after the cut. If you haven't heard by now the location is by Tim & Bonnie's Bowling Alley/Pizzeria at the former Larimor & Norton site…(the bat factory). The driveway, Bristol Ln., will be off Fillmore Dr. (or Fire Station Rd.). I moved to an adjacent section facing the drive, with plenty of parking and more space. It's been awesome, Come and check us out! Follow and like us on facebook…Page set for The Jonny Barber Shop.
It looks like I will be taking a break from the boating work I have done on Lake Erie, so my shop hours remain the same all year.